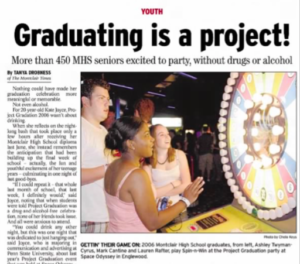 Project Graduation at Montclair High School began in the fall of 1989. A group of parents came together to create a final high school memory for the graduating Class of 1990.  It would be a night of fun and revelry, alcohol & substance free. This 34-year strong tradition continues on, and we plan a night of fun for the Class of 2024 that begins with the bus tour of town and then heads off to an undisclosed destination filled with fun and activities to celebrate the graduates final evening together as one class.
Our aim is to raise the funds so all those who wish to participate have a ticket price that graduating students can afford to pay. Project Graduation is organized by MHS volunteer parents with support from the Montclair Community.
Celebrate the Class of 2024 & Donate Now with one of our options and THANK YOU For your support:
Mail a Check to Montclair Project Graduation Inc at: 

Montclair Project Graduation
Po Box 43001, Valley Road, Montclair NJ 07043

Zelle Pay: Write in Note: -MHS PG '24

Then make Zelle payment to: –  Mhspginc@gmail.com
Any Questions please contact:-
Montclair High School Project Graduation Inc. at:- mhspginc@gmail.com
Many Thanks for your continuing support of Project Graduation in Montclair, NJ.
President – Elizabeth Esteves
Vice President – Erika Insana
Treasurer – Amira Williams
Secretary-Jemma Abrahams
Committee Guidance – Shannon Gibson and Lili Knutzen