Planning began back in the fall of 1989

Gleaned from letters & articles in The Montclair Times 1990 a team of parents and students formed a committee to celebrate high school graduation. They proposed a chaperoned evening of activities giving the seniors a gala farewell without alcohol, drugs or the dangerous partying that could follow graduation. With help from all in the community $17,000.00 was raised to fund the event that ran from 9pm to 5am. On return a farewell breakfast sponsored by the Montclair Kiwanis Club was served before sending them out into the world now that high school days were over.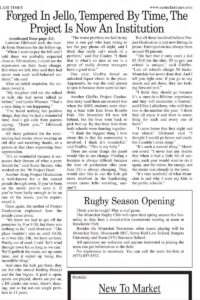 And Project Graduation goes down in history and became a tradition of Montclair, NJ.
Celebrate our Volunteers!
Our video below captures many of the moments and memories made as our volunteers worked diligently to raise the funds to celebrate our Graduates!
Thank You for all your time throughout the year. Thank You! Photo credits: Liz Uva, Kate Albright, Anuraj Bismal, Katrina Browning. Flyer credits: Liz Uva, Kim Williams, Kaie Bismal, Elaine Yee, Katrina Browning.
In the News
Trivia Night was a successful fun-raiser evening at the Women's Club of Montclair on April 1, 2022 and a letter featured in the  Montclair Local
MHS Project Graduation Inc Executive Board Members September 2024 :
Elizabeth Esteves – President
Erika Insana-Vice President
Amira Williams – Treasurer
Shannon Gibson and Lili Knutzen – Committee Guidance